A Legacy of Exceptional Care for All Faiths
When a loved one needs support to continue living at home, it can be hard to know where to turn.
We understand the emotion that accompanies the need for care and how overwhelming it can feel. When you partner with Jewish Family Home Care (License No.: 299994440), your family becomes part of ours. And like family, we're here when you need us, 24/7.
Founded in 2015 as an outreach of Goodman Jewish Family Services of Broward County to care for aging Holocaust survivors in our community, we have grown to serve a diverse population, including all faiths and backgrounds.
We are dedicated to empowering individuals, strengthening older adults and families, and protecting the vulnerable and frail by providing direct home care and personal care services guided by Jewish values, social responsibility, compassion, and respect.
From the beginning, we have carried out our mission with a simple ethos: "To provide exemplary and vital senior services based on traditional Jewish ethics and values." It was that way when we were founded in 2015 to serve aging Holocaust survivors, and it remains true for the people of all faiths that we serve today.
We're a nonprofit organization delivering home care services to over 400 clients – and peace of mind to their families – across the entire community, regardless of religious affiliation.
Since we first opened our doors, we've been committed to providing warm, supportive, compassionate care, and these qualities remain the framework of everything we do today.
Families like yours have placed their trust in us because we:
Recognized for Excellence
We're proud recipients of the Best of Home Care® Provider of Choice, Employer of Choice, and Experience Management awards each year since 2019.
These designations are awarded to us by HCP, a third-party industry leader in client and caregiver satisfaction measurement. They showcase our unwavering commitment to exceptional care for both our clients and care professionals.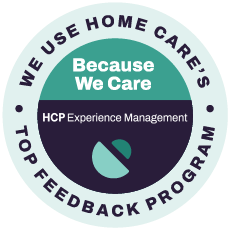 Payment Options
There are several different ways to cover the cost of our in-home care services:
Additionally, Medicare can offer limited home care coverage and pay for some services that can be performed by a home health aide only when the recipient is also receiving skilled care, such as nursing care or therapy.
Our goal is to ensure you or your loved one receives the highest quality care available. We will help you determine whether or not you qualify for our services under your long-term care insurance plan or VA benefits and assist you in creating a financial plan if necessary. Our goal is to help you afford the care needed in a hassle-free manner.
Teresa Duvall,
President and CEO
Teresa Duvall is more than the founding CEO who launched Jewish Family Home Care Inc. in 2015 and who today oversees all administration, operations, management, strategic planning, and business development. She is the architect who created the agency and the advocate whose mission is to serve the community's seniors.
Her impressive three-decade career has taken Teresa through such critical areas as Medicare/Medicaid, capitation, and private-duty home care organizations. In her most recent post as Administrator for Masada Home Care in Miami, Teresa worked closely with the not-for-profit Jewish Community Service to serve area Holocaust survivors.
No matter her position, Teresa's mission has remained true: to be a visionary leader of a dedicated and growing organization committed to providing exceptional services to South Florida's older adult community.
Robin Miller,
Chief Operating Officer
Robin has over 25 years of experience in nonprofit business development, fundraising, and coordinating successful outreach programs. In addition, she has promoted large gala events in Broward and Palm Beach counties. Robin has held executive leadership positions, helping expand the development footprint and community outreach for many nonprofit agencies. She has a devout passion for helping strengthen communities.
Robin's longstanding connection with the South Florida community comes through her varied roles as the former Executive Director of the South Palm Beach Chapter of the National Parkinson's Foundation, positions with the JCC in Plantation, YMCA of Broward County and Palm Beach, and the Ann Storck Center. Robin also opened the player childcare centers for the Florida Marlins and Miami Dolphins.
Robin holds certifications in Senior Living Administration and Florida Child Care Administration. She is extremely creative, outgoing, and enthusiastic.
Tatyana Virsta,
RN, BSN, Nurse Supervisor
Tatyana is a passionate and dedicated nurse with 5 years of experience in both clinical and administrative nursing. She has worked in a variety of settings including hospital, nursing home, and private office. Originally from Ukraine, Tatyana's goal is to provide superb client centered home care, assuring physical, emotional, and and social support to clients and their families.
Michael Rosenberg,
Director of Finance and Accounting
As the Director of Finance and Accounting, Michael Rosenberg brings more than 20 years of experience in the banking, home health service, hospital, and non-profit industries. With a focus on the financial aspects of the business, he is proud to be a member of the Jewish Family Home Care team working to empower individuals through award-winning home care services.
Michael is a graduate of the University of Florida and he has been involved with various charities in Palm Beach County. Michael's driving personal and professional philosophy is the three word phrase of "Keep Moving Forward."
Alicia Prada,
Director of Human Resources
As Director of Human Resources, Alicia oversees all human resources initiatives, including staffing, benefits, employee engagement, employee relations, training, and development. She has nine years of HR experience, six of which were in direct leadership roles. She obtained her certificate in Human Resources Management from Florida Atlantic University and is certified as a PHR (Professional in Human Resources).
Michael Anidjar
Michael Brodie
Stephen Jackman
Michael G. Masarek
Dr. Sheldon Ross
David Schulman
There is nothing more important to us than the safety, physical, and emotional well-being of the older adults in our community. When hiring caregivers to join the Jewish Family Home Care team, we look for qualities such as dependability, kindness, friendliness, dedication, and respect.
If someone meets our high standards, we then go through the following process for your peace of mind:
Want to learn more about our exceptional care team and how we can help someone you love enjoy a better quality of life? Contact us anytime!
We proudly serve all of Broward County and we're here for you, 24/7, with the information, resources, and support you need.